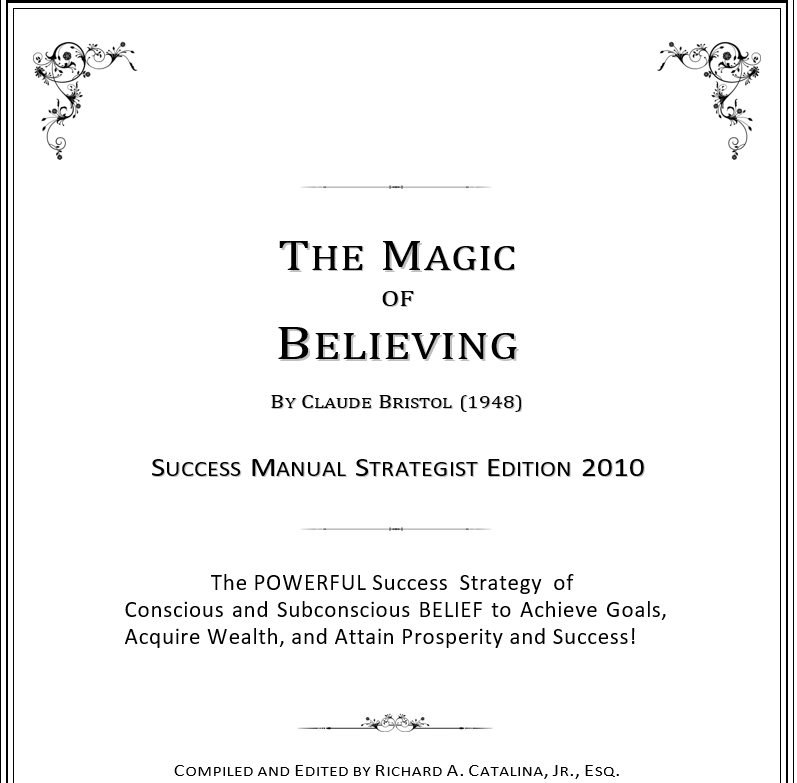 Download "The magic of believing by Claude Bristol"

The-Magic-of-Believing-by-Claude-Bristol-1948-Success-Manual-Strategist-Edition-2010.pdf – Downloaded 0 times – 2.41 MB
IS THERE some force, or factor, or power, or science – call it what you will – which a few people understand and use to overcome their difficulties and achieve outstanding success? I firmly believe that there is, and it is my purpose in this book to try to explain it so that you can use it if you desire.
Around 1933, the financial editor of a great Los Angeles newspaper attended lectures I gave to financial men in that city and read my brochure
T.N.T. – It Rocks the Earth. Afterwards, he wrote the following:
"You have caught from the ether something that has a mystical quality – a something that explains the magic of coincidence, the mystery of what makes men lucky."
I realized that I had run across something that was practical and workable. But I didn't consider it then – neither do I now – as anything "mystical," except in the sense that it is unknown to the majority of people. This "something" has always been known to a fortunate few down the centuries, but for some unknown reason it is still barely understood by the average person.
Years ago, when I started to teach this science by means of lectures and the medium of my brochure, I wasn't certain that the concepts could be grasped by the ordinary individual. But since then, I have seen those who have used it to double and triple their incomes, build their own successful businesses, acquire homes of their dreams, and create sizable fortunes.
I am now convinced that any intelligent person who is sincere with themselves can reach any heights they truly and honestly desire. I had no intention of writing a second book, although many urged me to do so, until a woman in the book business who had sold many copies of my first little book literally read me "the riot act" by stating:
Download "The magic of believing by Claude Bristol"

The-Magic-of-Believing-by-Claude-Bristol-1948-Success-Manual-Strategist-Edition-2010.pdf – Downloaded 0 times – 2.41 MB